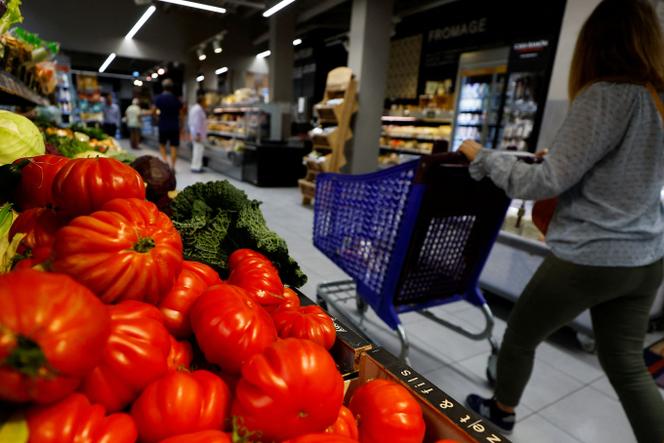 Improving yourself as a chef when you're a student is a headache: you have to find recipes that are quick to make, economical, satisfying, with minimal accessories. Sylvia Gabbett, former Gault and Millau food critic who became (successful) cookbook author, tackled the task Broke and greedy. Special student (Ed. de la Martinière, 2013).
"I created this book to help Eduard, the son of two friends, who had thrown himself into a roommate and found no other way to eat quickly and easily than to buy a whole stock of cans of sardines.Remembering Sylvia Gabbett. This is probably the job that requires the most creativity from me! »
Each seemingly simple recipe pushes the limits of young cooks. Salmon soup is a technique for cooking fish without an oven, club sandwiches are easy to make and filled with vegetables, and giant chocolate cakes last several days.
Japanese soup with fresh salmon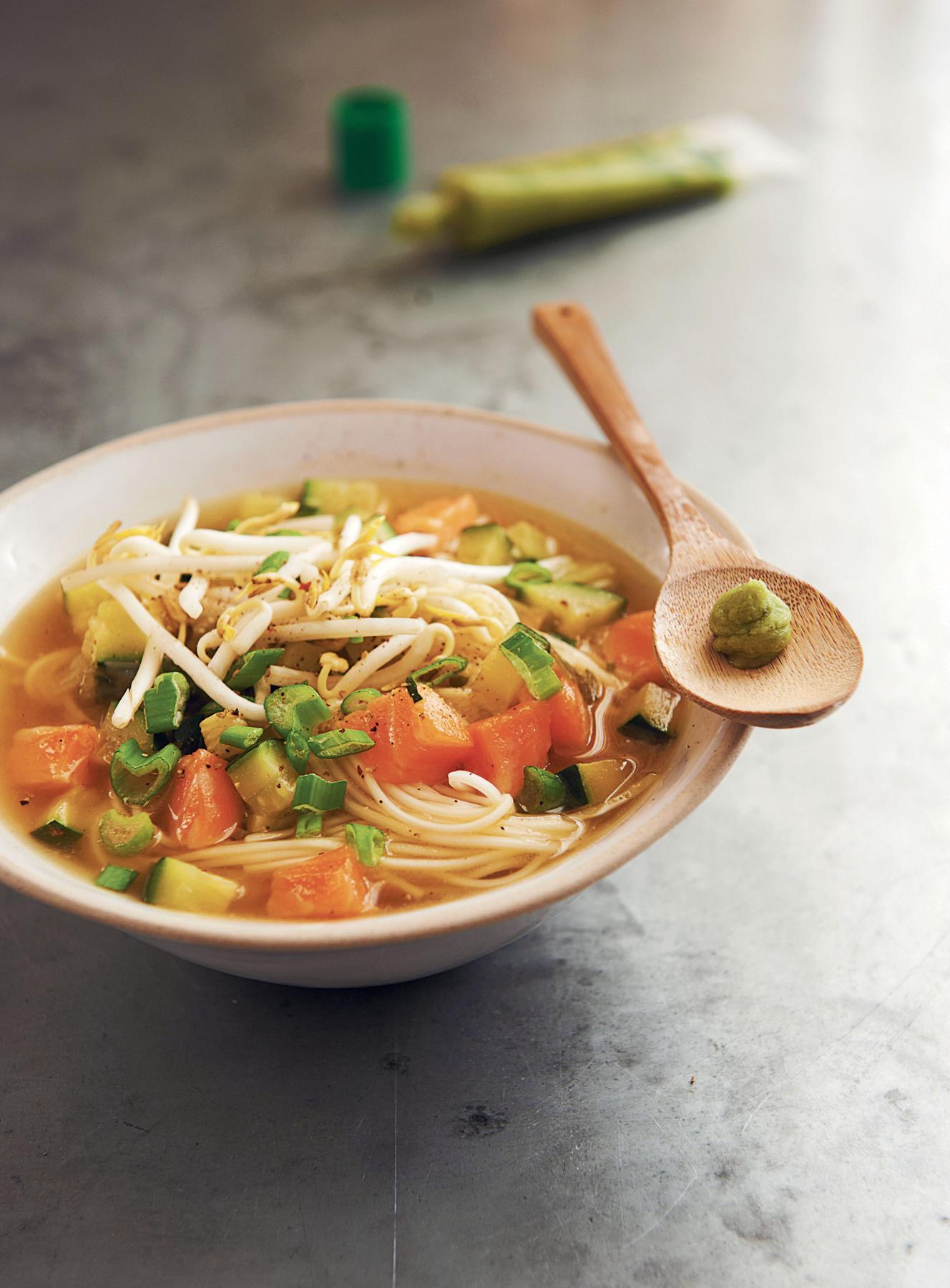 For 2 people
Preparation: 5 minutes
Cooking: 15 minutes
Ingredients:
1/2 packet of rice noodles (125 grams)
3 spring onions
1 bunch of ginger
2 zucchini
1/2 chili (or 1 pinch of wasabi paste)
3 packs of miso soup (if not available, 1/2 vegetable stock cube)
250g fresh salmon fillets without skin (if frozen)
1/4 packet of bean sprouts (50 grams)
1 tbsp. olive oil
salt
Boil water in a saucepan, place the noodles in a bowl and cover with boiling water and a little salt. Place a plate as a lid and let rise for 8 to 10 minutes.
Meanwhile, saute the chopped new onion (save one onion green for the final garnish) and the peeled and chopped ginger in a pan with olive oil. Add the washed and chopped zucchini, half-pepper and brown everything, stirring for 5 minutes.
Add the miso soup sachet, pour in 60cl of hot water and bring to the boil.
Cut the salmon into cubes (defrost an hour in the microwave or at room temperature if needed) and arrange on a plate.
Add the bean sprouts, cooked noodles and pour the boiling soup over them. Add the reserved onion sprouts.
The 1894 Club Sandwich Revisited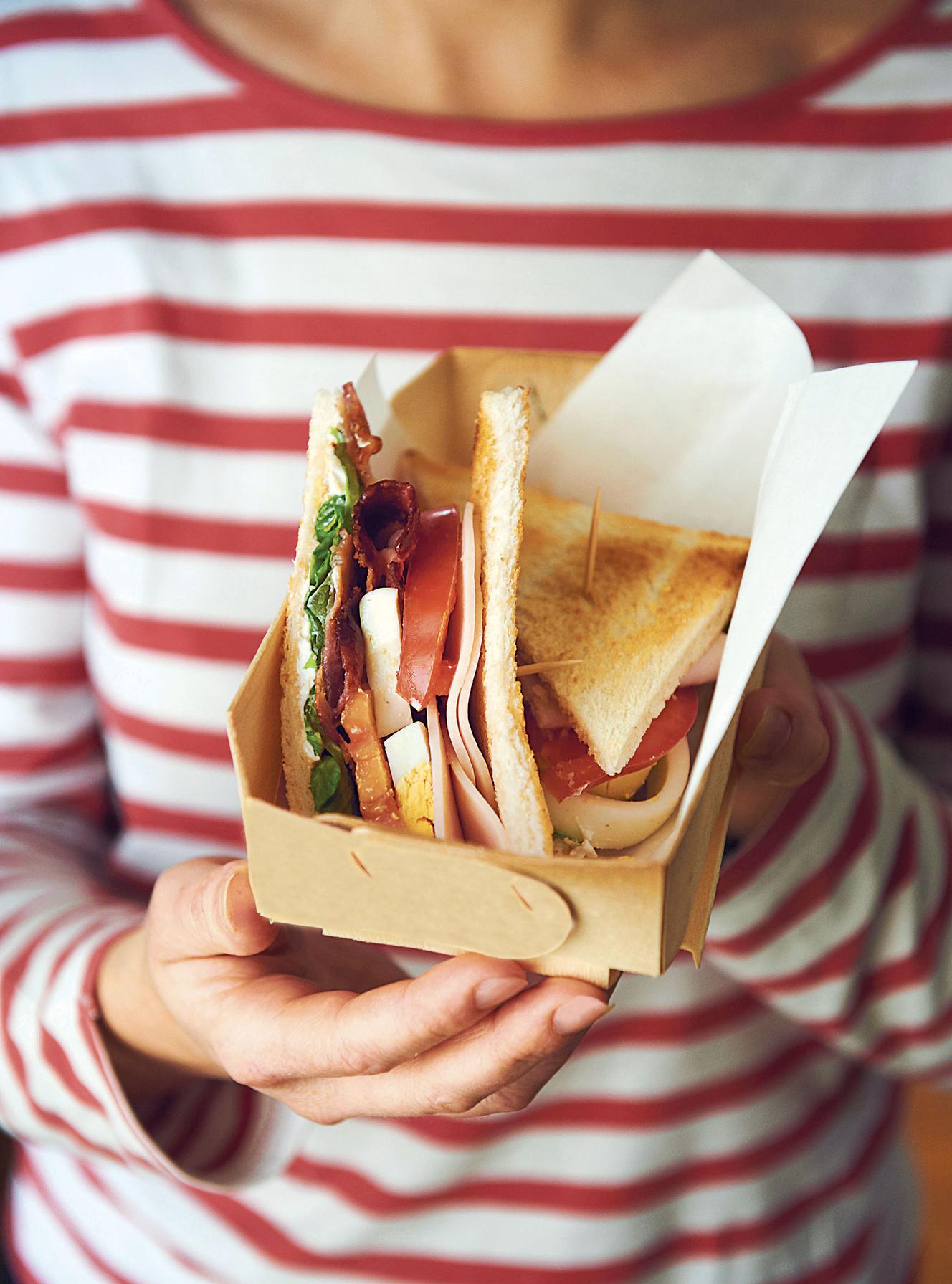 For 4 people
Preparation: 10 minutes
Cooking: 10 minutes
Ingredients:
4 eggs
8 slices of bread
1 pint of 150 g spreadable cream cheese
8 thin slices smoked bacon
4 tomatoes
4 lettuce leaves
4 slices turkey ham (or leftover cooked chicken)
salt pepper
You have 32.45% of this article left to read. The following is for customers only.